Sequans Communications S.A. (NYSE: SQNS) is a leading developer and provider of 5G and 4G chips, modules, and development platforms for broadband, critical and massive IoT. Sequans focuses only on IoT and powers a wide range of end-user devices, including desktop CPE, Mi-Fi routers, asset, people and automotive trackers, and smart meters, to name a few. In addition to the solutions it provides for massive IoT and broadband/critical IoT, Sequans also provides customized technology solutions to customers in several vertical markets, including public safety, aviation, government, and transportation.
For 5G/4G massive IoT applications, Sequans provides a comprehensive product portfolio based on its flagship Monarch LTE-M/NB-IoT and Calliope Cat 1 chip platforms, featuring industry-leading low power consumption, a large set of integrated functionalities, and global deployment capability. For 5G/4G broadband and critical IoT applications, Sequans offers a product portfolio based on its Cassiopeia 4G Cat 4/Cat 6 and high-end Taurus 5G chip platforms, optimized for low-cost residential, enterprise, and industrial applications.
Sequans was established in 2003, in Paris, France and today has around 240 employees all over the world, with R&D mostly in France and Europe.
See www.sequans.com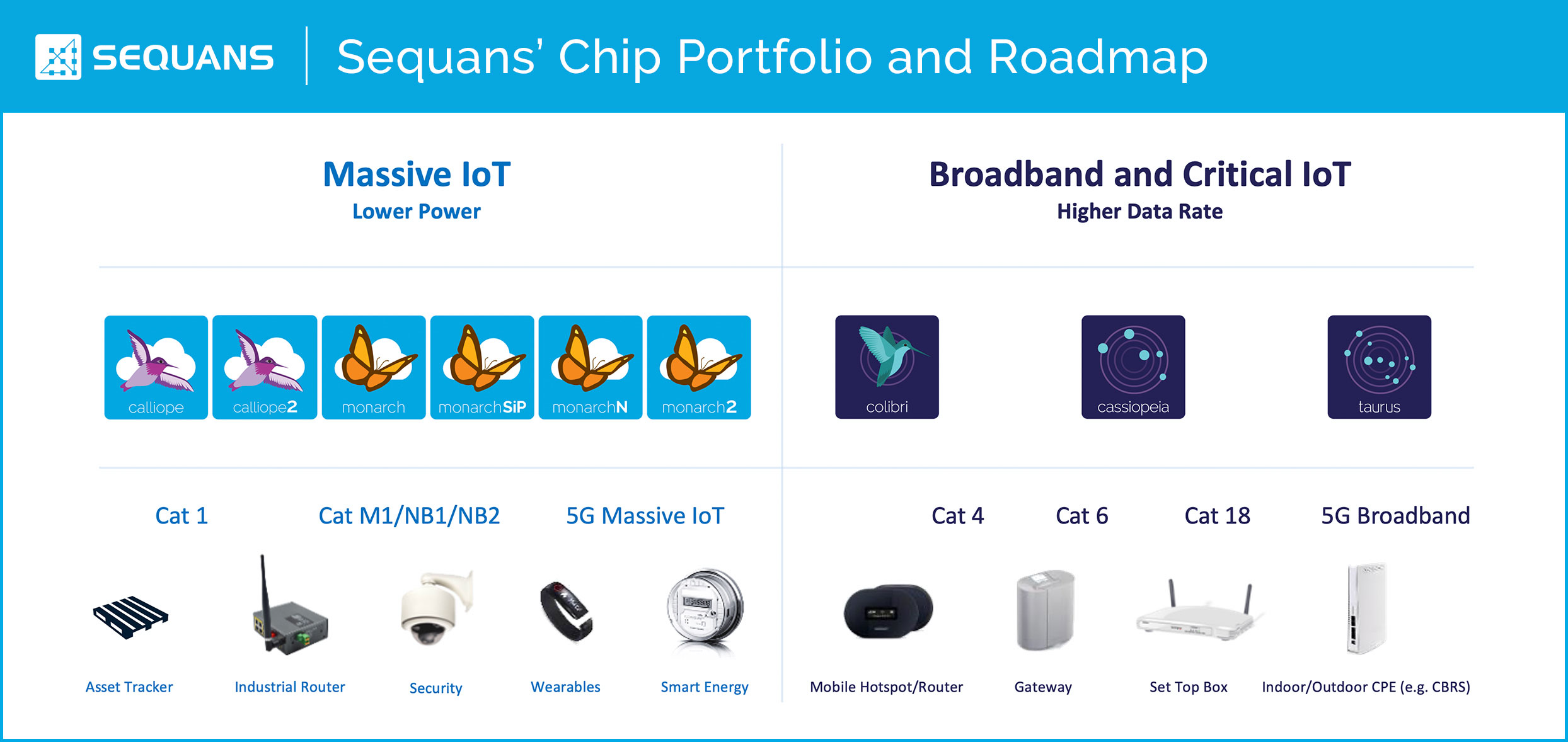 With more than fifteen years of experience in 4G and 5G semiconductor solutions, with seven generations of technology developed and commercially deployed, and with millions of chips and modules deployed worldwide, Sequans is a leader in the industry and intends to continue answering the world demand for IoT connectivity solutions.
Since the early days of 5G-PPP, Sequans has been involved in joint European research on 5G. This work has brought to the company unique experience and know-how that has contributed to Sequans' ability to consolidate its position as one of the few credible chipmakers in the global cellular modem market, and, notably, the only one in Europe.
In the 5G-TOURS project, Sequans brings its expertise in LTE-M and NB-IoT, providing support for mMTC deployment and related use cases. In particular, Sequans has been participating in the smart parking use case in Athens, and the patient monitoring use case in Rennes, providing 5G connectivity modems for the user terminals. Moreover, Sequans actively contributes to the 3GPP standardization process, in the continuous improvement of IoT technologies, and towards more secure and more efficient wireless connectivity solutions to enable the use cases encompassed in 5G-TOURS.
Contributing to and participating in the 5G-TOURS project represents a great opportunity for Sequans to gain knowledge about the specific requirements for various use cases, driven mostly by vertical markets. Indeed, the full potential of 5G will be visible in these new use cases that leverage the full power of 5G technologies, URLLC and mMTC. Sequans is uniquely positioned to serve the 5G market, thanks to its optimized portfolio of solutions for connected objects. Moreover, 5G-TOURS is a platform to improve Sequans' visibility and grow its market share in Europe and beyond. The project also provides a unique place to meet top academic and industrial partners and to be exposed to the latest and most promising technology trends.