Orange Poland (ORA-PL) is the largest telecommunication operator in Poland, providing services in all segments of the market.
The key resources of ORA-PL include radio spectrum, network infrastructure, software infrastructure, points of sale, employees, innovation, market and customer knowledge. To this should be added such elements of social relations as a recognizable brand, relations with the regulator, other institutions and business partners as well as financial resources.
ORA-PL holds licenses for 800MHz, 900MHz, 1800 MHz, 2100 MHz, and 2600 MHz. The fibre core network covers the whole country and services are provided using DSL, PON and other technologies. Currently ORA-PL is investing in the rollout of fibre PON network. Over the last 10 years ORA-PL invested more than 25 billion PLN in fixed assets. Software infrastructure covers a number of platforms that combine the network and IT resources. Distribution network is constantly evolving in line with customers preference. Currently ORA-PL has 700 points of sales including Smart Stores. At the same time, the online sales and service channels are developing and automation based on IVR, Chatbot and USSD is being implemented.
ORA-PL strategy assumes expansion of fast broadband and mobile, with fixed voice having a lower and lower impact on the overall performance. Fibre network rollout is gradually closing the technological gap with cable operators in Poland. Mobile data traffic growth continues to be very robust. To address this demand ORA-PL continually invest in the quality of the network. 4G/LTE mobile network reached almost the entire Polish population on an outdoor basis and almost 97% indoors. To accommodate robust growth of demand for LTE traffic, since 2018 ORA-PL focused on refarming the spectrum. The first 5G services were launched by ORA-PL in mid-2020, with the 5G network covering around six million people through 1,600 base stations in cities such as Warsaw, Lodz, Krakow and Katowice. The 5G network uses frequencies in the 2100MHz band, pending the results of the frequency auction in the 3.5GHz band. Convergence of services makes ORA-PL a unique convergent operator in Poland, because competing cable operators have not yet adopted mobile services on meaningful scale.
Our team, involved in 5G-TOURS and 5G-EVE projects, comes from Orange Labs Poland. It is part of an international network of Orange R&D units and laboratories. Orange Labs Poland specializes in many technological areas, creating innovative products and services that are then offered by Orange.
Current priorities of Orange Labs Poland include a new model of a telecommunication operator, placing Data and AI at the heart of the innovation model and co-creating the image of Orange as a future-facing company.
As part of these priorities, Orange Labs Poland contributes to the Cloud Native Operator, develops a range of services for the home, builds solutions for automated and resilient networks, and maintains Data and AI services. It takes a Devops & Agility approach in its operations.
Through its representatives, ORA-PL participates in a number of European projects, including such key projects for the development of 5G infrastructure as 5G-EVE or 5G-TOURS.
ORA-PL's activity in the 5G-TOURS project is concentrated on two WPs: WP3 Network architecture and deployment, and WP7, concerning the integration and evaluation of the system. Our close corporation with ORA-FR focuses our point of interest on French Site situated in Rennes and Chatillon cities. In Rennes two use cases are deployed: UC8 "Wireless Operating Room" in Hospital CHU and U7 "Teleguidance for diagnostics and intervention support" in b-com company localization. ORA-PL is responsible for automatic orchestration of VNFs and CNFs used by UCs from 5G-EVE project and from 5G-TOURS project. Orchestration process is performed by local orchestrator ONAP deployed in Chatillon.
The main vision of 5G-TOURS is to improve the life in the city for the citizens and tourists in aspects of mobility, excursions and security. UC7 and UC8 belongs to "Safe City Use Cases".
"Wireless Operating Room" use cases focus on cardiological operation of patient simultaneous monitored by USG and x-ray devices. Moreover video and data transfer from intelligence glasses from operation room to remote destination must be provided. This Use case demands low latency and high throughput for video streaming. In the same time on the same 5G-TOURS architecture is deployed next use case "Teleguidance for diagnostics and intervention support". Here ambulance crew is tele guided by the remote medical expert by different devices like: smart glasses, USG probes connected to tablet. To correctly support this use case we need low latency, high throughput and high priority Class of Service.
ORA-PL in 5G-EVE project contribute in integration process of ONAP to 5G-EVE platform as well as for 5G-TOURS project proposes automatic instantiation of 5G core network WEF 2.2. This Wireless Edge Factory (WEF 2.2) is developed by b-com company and support 5G core control plane for two use cases UC7 and UC8. Figure 1 shows how 5G-TOURS project will be integrated with 5G-EVE platform. Integration is supported on two levels at the beginning on ONAP level than on 5G-EVE portal. According to ONAP upgrade to multi-site feature to add CHU site (grey colour). B-com localisation is already declared in 5G-EVE (green colour). In red square is situated 5G-EVE responsibilities with 5G-EVE platform and WEF2.2 core deployed as CNF, than in green rectangle – infrastructure ( RAN, UPF) is deployed by 5G-TOURS project for UC7 (b-com localization) and in grey rectangle for UC8 (CHU).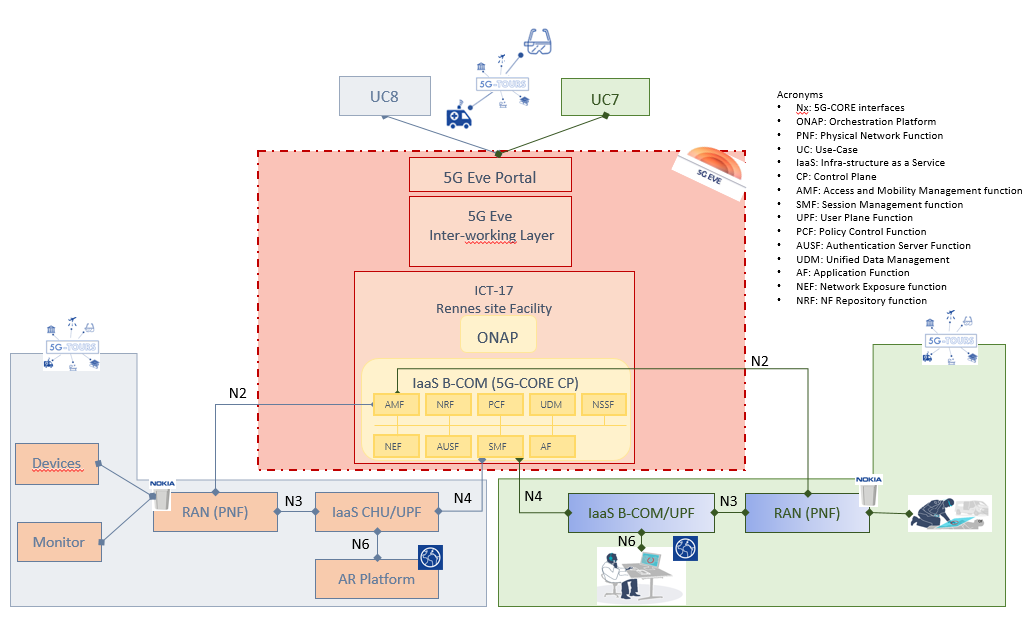 For WP3, ORA-PL is carrying out Task 3.3 and is focusing on the development of a custom AI model for resource management in a 5G network. Currently ORA-PL is dealing with a case of the AMF server, which is the bottleneck limiting the performance of the 5G core network. The novelty of this case is related to the use of CNF functions on the CP plane instead of VNF, which has become a new trend among telecommunication companies in the last few years. Usually User Plane and Data Plane, as more latency sensitive, are implemented as VM and CP is migrated as cloud native using containers and microservices.
The PoC being prepared by ORA-PL will verify the algorithms used in the AI model and find solutions that optimally predict the demand for resources in the 5G network, which will minimize the operational costs of operating such a network and ensure the appropriate quality of 5G services provided using this network.
Participation in projects such as TOURS allows ORA-PL and especially Orange Labs to maintain competence in next-generation networks and prepare for the smooth implementation of new technologies in its own network.