Ericsson Italy (ERI-IT) represented by R&D Italy, is proud to work on 5G-TOURS H2020 project built by a consortium, in which 28 of the most innovative companies in the 5G arena from eight countries cooperate to exploit 5G-driven quality of life improvements for tourists and citizens.
Ericsson is present in Italy since 1918 and Italy has always had a strategic role for Ericsson both for its market position and for a strong R&D presence in the country. Ericsson's leading role in the evolution of telecommunication is well recognized by Italian institutions.
ERI-IT contributes to 5G-TOURS by covering two roles, the overall responsibility for project coordination and with technical competence, theoretical as well as practical, for the 5G Network related activities. People assigned on the project have been selected by their professional preparation, experience of working in an international environment and also considering people diversity and inclusion; in-fact, Ericsson, as well as the European Commission, is fully committed to gender equal opportunity which is part of our company values and considered paramount for performance and innovation excellence, creating greater business value. Accordingly, ERI-IT has assigned the role of 5G-TOURS coordination to a woman, Silvia, a certified Project Manager Professional with long experience in international projects.
ERI-IT technical contribution is provided by experts with proven system design and system validation experience with deep knowledge on the diverse technologies involved in the network evolution from 4G to 5G needed to meet the end-to-end demands of today's and tomorrow's networks.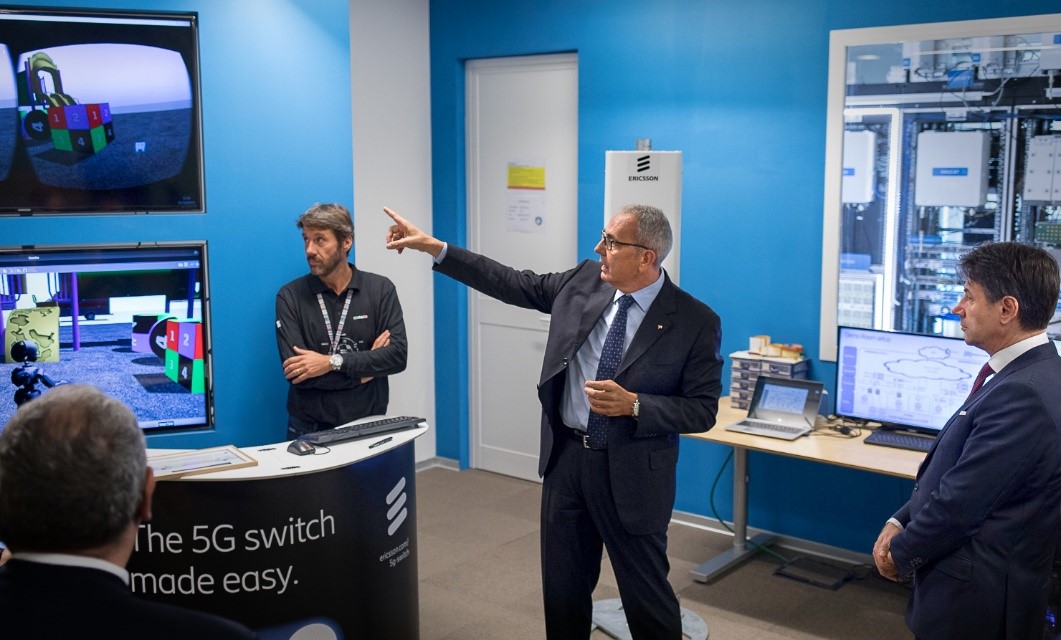 ERI-IT's 5G-Lab in Genoa is utilized to cooperate to integration, characterization and validation of uses cases for the Turin site. The 5G-Lab in Genoa is a configurable end-to-end environment covering the different network segments e.g. RAN (Radio, Baseband and Fronthaul), Backhaul Network, Metro and Core. This environment provides the possibility to evaluate different network scenarios and solution aspects such as connectivity performances (e.g.: latency requirements and throughput characterization) in eMBB, mMTC and URLLC applications and more.
As a project partner, ERI-IT also provides access to the entire toolbox that Ericsson, world leader in 5G, has developed to help operators to evolve their networks to 5G: outperforming RAN technology, software enabled millisecond spectrum sharing, dual-mode core, AI enhanced services, dynamic orchestration, and IoT connectivity and device management.
Demanding requirements from verticals and consumers request a 5G network usage at its full potential. This can only be achieved with experience and competence in end-to-end network design and validation, something that ERI-IT provides. To study, select and test the best components to evolve and maximize performances of network infrastructure deployed on Turin site is our main technical goal.
ERI-IT participation in 5G-TOURS project provides a great opportunity to exploit the full potential of 5G networks and collect useful insights and experiences useful for Ericsson's continuous improvement of products and services. 5G-TOURS is the perfect place where to contribute and learn at the same time together with the fantastic 5G-TOURS project team of great people!